Standard or premium?
Both our standard and premium-quality wallpaper material is durable, wipeable and environmentally friendly. Restaurant owners, interior designers and parents of small children prefer our premium quality because it is more resistant to scrapes and suitable for cleaning products.
Nonwoven material

Glue applied to wall

Does not fade in sunlight

Environmentally friendly

PVC-free

Fire rated
Nonwoven material

Glue applied to wall

Does not fade in sunlight

Environmentally friendly

PVC-free

Fire rated

Scrape-resistant

Extra matt finish

Anti-reflective

Suitable for cleaning products
Easy to hang
We print your wallpaper to your specific measurements and number the strips in the order they should be hung on the wall to make hanging your wallpaper fun and easy. Glue the wallpaper straight onto the wall and hang the strips from edge to edge. Wallpaper Paste Included.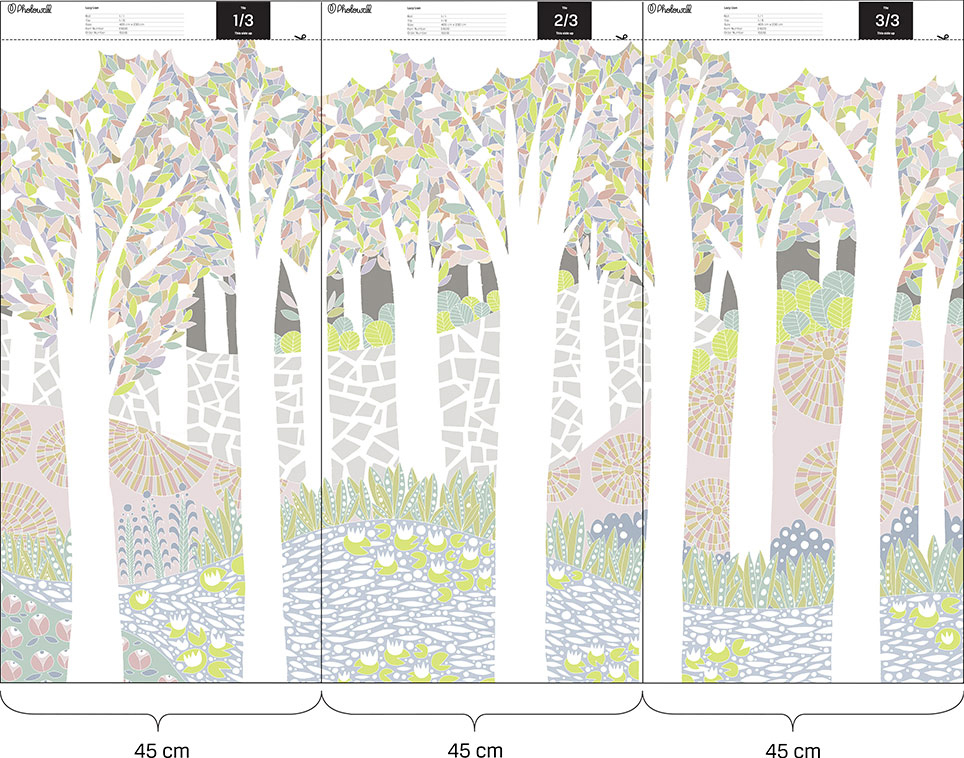 How do I measure my wall?
We print your wallpaper to your measurements for a perfect fit. Walls are not always perfectly straight, so it's important to measure your wall in several places. Always use the longest measurement for width and height when placing your order. We also recommend that you add 6-10 centimetres to your measurements to provide a margin of error for assembly.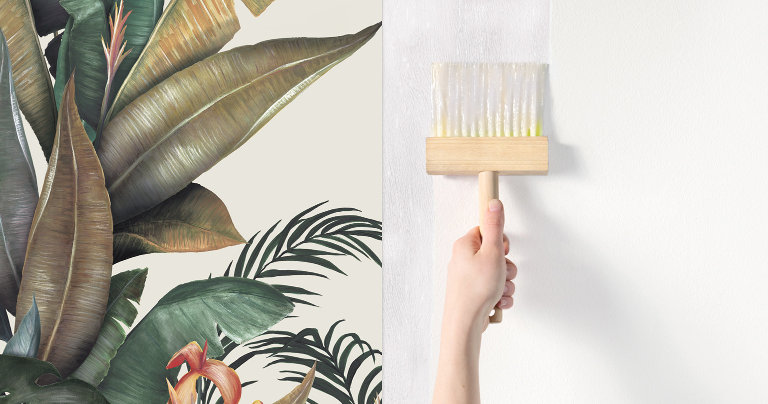 Wallpaper glue included for free!
Mixing the powdered glue included in your package is simple. All you need to do is follow the steps in the assembly instructions. Mix the powder in lukewarm water. In five minutes, it will be ready for wallpapering.
How to assemble our standard and premium wallpaper
Glue straight onto the wall with a roller or brush
Apply the wallpaper strips from edge to edge
Trim any excess wallpaper. And voilà – you're done!
All you need to hang your wallpaper
Includes a brush for applying glue, a seam roller for making the seams invisible, a paperhanging brush for smoothing the strips, a knife and cutting guide for trimming excess wallpaper, plus a spirit level, a pencil and a tape measure.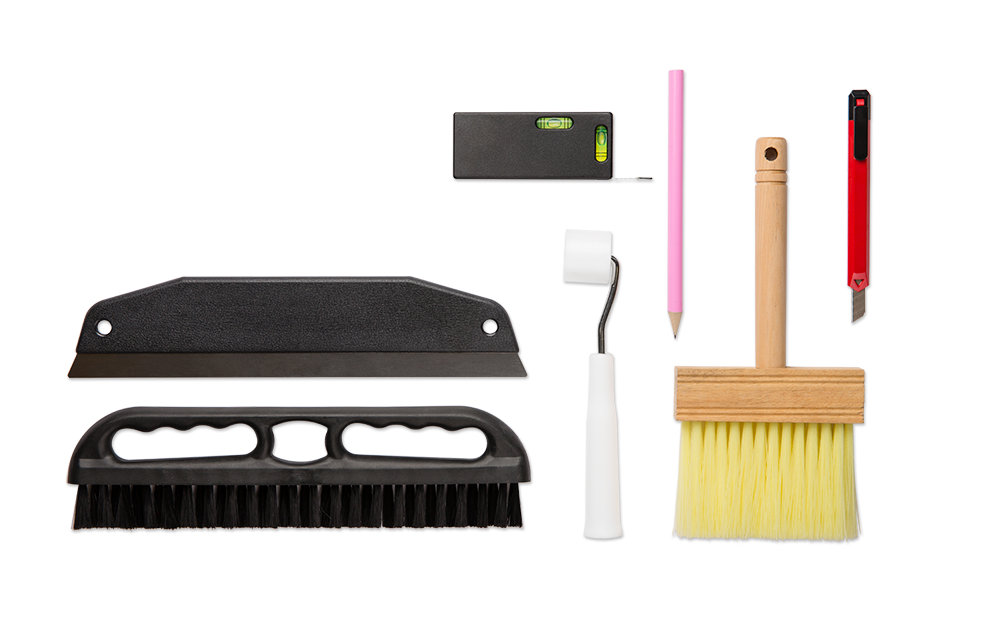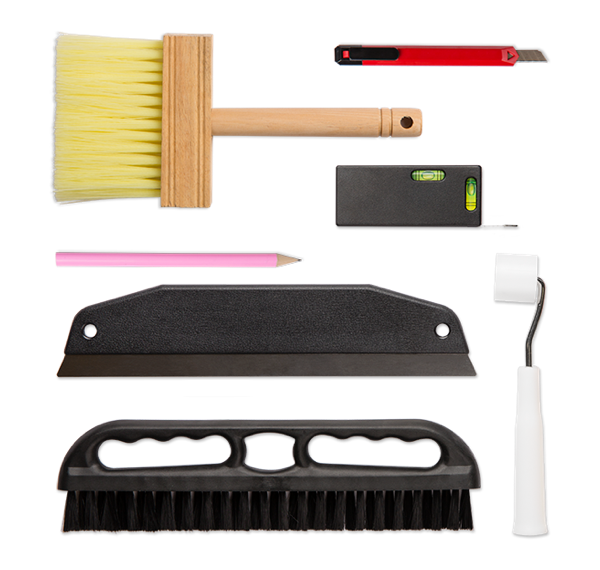 Cutting guide – Used with the knife to trim off any excess wallpaper.
Paperhanging brush – For smoothing the strips after application.
Spirit level – You need this for vertical marking with the pencil.
Seam roller – For bonding the strips together at the seams.
Pencil – For drawing a vertical line to delineate each strip width on the wall.
Paste brush – For spreading the glue.
Trimming knife – Use with cutting guide to trim off excess wallpaper.
We ship your package in 1–4 days
Your wallpaper is carefully packed in a durable cardboard box and shipped within 1–4 days with free delivery. The box contains your wallpaper, powdered glue and assembly instructions.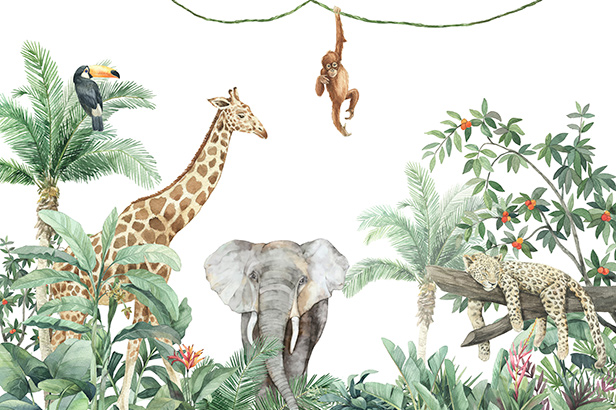 We can edit your image
Do you want to change colours, add items, or change the proportions? Our skilled graphic artists can customise the image in many different ways.
Choose one of our products or upload your own image to submit an enquiry.
We care about the environment
We only make products to order. This means no products are stored in a warehouse or thrown out unnecessarily. Our printing ink contains no hazardous chemicals and is biodegradable. To learn more about how we work to minimise our environmental impact, please see our
environmental policy.
Fire rated
All our wallpaper is fire rated
Climate-smart packaging
Your wallpaper is shipped in a cardboard box made of fully or partially recycled materials.
Our collaboration with Vi Agroforestry
Every purchase at Photowall supports our work with development cooperation organization Vi Agroforestry. We plant 5000 trees every year in the area surrounding Lake Victoria in East Africa. Learn more about the important work of Vi Agroforestry.
Would you like to create your own wallpaper or print? Send us an image or illustration and we'll help you free of charge with no obligation to order.
Transform your room with wallpaper
It's easy to change the mood of a room with our individually selected, unique wallpaper. In offices, bedrooms, hotels, kitchens and many other spaces.